Omaha, Nebraska: a year of dramaturgy, adaptation and research laid the ground for this extraordinary ten-day residency in an empty warehouse, hosted by the fearless Opera Omaha for their inaugural One Festival.
Featuring the collaborative creative insight of scenographer Kate Fry, plus the steady eye and force of One Festival Artistic Director and fellow Angeleno, James Darrah, The Wreck was described in the Wall Street Journal as "ingenious."
The piece interweaves Rusalka mythology, the Andersen tale of the Little Mermaid, and the life of poet Anne Sexton, with compositions by Mariana Sadovska and extracts from the operatic canon. Huge thanks and reverence to the women of the International Contemporary Ensemble and our incredible singers, Annie Rosen and Mary Feminear.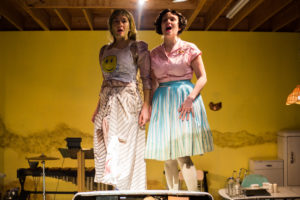 "Even more ingenious was "The Wreck," created in 10 days by Annie Saunders, a Los Angeles-based director who specializes in site-specific theater pieces and was lured to Omaha by the promise of raw, empty spaces. A collaboration with composer Mariana Sadovska and designer Kate Fry, the 55-minute work takes off from the Little Mermaid/Rusalka story of the spirit creature who leaves water for land and suffers for it; it explores a distinctly female experience of domesticity, alienation and escape with a captivating mix of music and text. Played in a long room filled with 1950s-era household appliances and furniture, with the audience sprinkled among them, "The Wreck" is structured around recordings of Anne Sexton reading her own poems; their power defies the male voice that refers to her in the beginning as an "alcoholic housewife." The astonishing live performers are the alter-ego singers—soprano Mary Feminear, costumed as a '50s housewife, and mezzo-soprano Annie Rosen, in gilded mermaid makeup—along with four improvising musicians from ICE ( Rebekah Heller, bassoon; Clara Warnaar, percussion; Nuiko Wadden, harp; and Katinka Kleijn, cello).
Nothing is predictable: A Latin chant by Hildegard von Bingen is followed by Ms. Sadovska's tight harmonies vocalized in a deliberately harsh, Eastern European folk style. A snippet from Lucia's mad scene (Donizetti) and Dido's lament (Purcell) are hauntingly arranged for two voices and the instruments. The six performers play the "I'm going on a trip and I'm taking…" word game; at one point, the lights go out and crashing sounds are heard all around the space, climaxing in a frantic bassoon improvisation. Yet the narrative fits together; and even though, as was the case with Anne Sexton, it includes the eternal operatic tropes of female madness and suicide, "The Wreck" is a persuasive expression of complex female feeling." – WALL STREET JOURNAL || Heidi Waleson 4/16/18